Frond Design Studios create unique and beautiful fabric for the quilting, upcycling, furniture and home decor industries. Owner, Stephanie Brandenburg, is a master artisan skilled in both fabric and overall lifestyle design.
With a reverence to our past, we look to the future to empower women and to keep art in fabric. We've revolutionized the fabric industry by creating unique hand painted fabric designs for quilters and seamstresses to express themselves with. Our goal is to bring ART to LIFE in projects for your home and garden through artisan centers that encourage the creators of today.
DelveMIY is the 'make it yourself' authentic artisan studio and storefront for Frond Design Studios. As the retail arm of Frond, DelveMIY specializes in the consumer experience and sells artisan fabrics, quilts, patterns, fabric bundles, sewing machines, classes, and DIY projects.
Frond fabrics are available for purchase at stores across the United States and in Canada.
Featured Products

New Products
Founder & Frond Visionary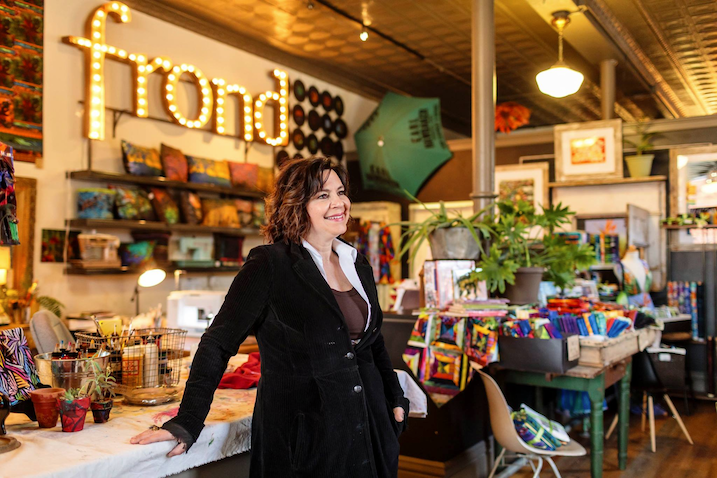 Stephanie is the Frond master artisan who applies her art to fabric, upcycled materials and even architecture. What makes Stephanie so unique is her vision that has brought beauty to the world in so many distinctive techniques.
Come See Us On The Road!
| Date | Location |
| --- | --- |
| Jan 18-21, 2018 | Ontario, CA - Road to California |
| Feb 22-25, 2018 | Pasadena, CA - QuiltCON |
| Feb 28 - March 3, 2018 | Daytona Beach, FL - AQS - We'll be teaching! |
| March 8-10, 2018 | Atlanta, GA - OSQE - We'll be teaching! |
| April 5-7, 2018 | Cleveland, OH - OSQE - We'll be teaching! |
| April 12-14, 2018 | Chicago, IL - Quilt Festival |
| April 18-21, 2018 | Paducah, KY - AQS (Spring) - We'll be teaching! |
| May 18-20, 2018 | Portland, OR - Spring Market |
| June 7-9, 2018 | Arlington, TX - OSQE - We'll be teaching! |
| July 12-14, 2018 | Tampa, FL - Stitcher Paradise - We'll be teaching! |
| July 19-21, 2018 | Raleigh, NC - OSQE - We'll be teaching! |
| Aug 22-15, 2018 | Grand Rapids, MI - AQS |
| Sept 12-15, 2018 | Paducah, KY - AQS (Fall) |
| Sept 27-29, 2018 | Fredericksburg, VA - OSQE |
| Oct 3-6, 2018 | Virginia Beach, VA - AQS |
| Nov 3-5, 2018 | Houston, TX - International Quilt Market |
| Nov 8-11, 2018 | Houston, TX - International Quilt Festival |